Cookies
Weybread Woodcraft Ltd use of cookies on our website is to allow us to collect statistical data about your use of our website with Google Analytics and Google ads. This enables us to enhance and develop our website and advertising to promote our business and personalise ads. This information is only processed in a way which does not identify anyone. We do not make, and do not allow Google to make, or attempt to find out the identities of those visiting our website. For more information, including how to disable/delete cookies, please go to www.all about cookies.org.
For further information on how google uses cookies, it's privacy policy and how Google will use you personal data, please follow the links below:

Learn more about how Google uses cookies
Privacy Policy.
What information we hold about you, how we us it, who we may share it with and keeping it secure.
Weybread Woodcraft Ltd collect and use certain personal information about you which is processed in accordance with this privacy policy for our website. This policy will explain how we process, collect, manage and store those details. Please contact us if you have further questions.

The personal information we may hold are: your email address, name & contact details which are collected when you contact us for the purpose of responding to your enquiries and providing our services to you. Technical and analytical information obtained through cookies and other information you provide us.
How we use your information

We use your information to personalise your experience on our website.
Respond to enquiries, which you make to us regarding our products.
To monitor site usage to develop and administer our website and services.
Weybread Woodcraft Ltd will use appropriate technical and organisational measures to safeguard your personal data. We store your personal data on secure servers and access to your personal data is limited to approved staff, we store this information until a time that it is no longer required for the purposes for which we collected it, or for as long as we have your consent to do so where your consent is our legal basis on which we process such data. All retained data will be held subject to this policy.

While we use all resonable efforts to safeguard your personal data, you acknowledge that the use of the internet is not entirely secure and for this reason we cannot guarantee the security or integrity of any personal data that are transferred from you or to you via the internet.

Reasons we collect and use your personal information.

We may use your information in the following ways:
Where it is nexessary to perform a contract with you. When agreeing a contract of works with Weybread Woodcraft Ltd, this personal data may be shared with third parties, for the purposes of fulfilling the requirements of the Competent Person Scheme for self-certification under the Building Regulations. This data will be used to provide essential documentation and will be retained on files for the lifetime of the guarantees which do not exceed 10 years.
Where it is required by law.
Where you have provided consent, (you can withdraw this consent at any time) or where necessary for our legitimate interests as a business including: responding to enquiries, providing services to our customers, inproving and developing our servces, the administration of our business, promoting our business and establishing, exercising or defending our legal rights.
Changes to this policy.
We may change this policy from time to time. Your should check this policy frequently to ensure you are aware of the most recent version that will apply each time you visit our website.

About Us
Weybread Woodcraft Ltd is a family run business, established in 1995 based in East Anglia on the Norfolk/Suffolk border. We are a member of Fensa, CE compliant and specialise in bespoke wooden window frames, exterior doors, stairs and joinery for conservatories. We offer an extensive range of quality joinery products. Our enormous experience in window, door and stair manufacture means all our products are expertly designed to your requirements using the finest materials.
All Weybread Woodcraft Ltd's products are thoroughly tested during the manufacturing process to ensure compliance to all industry regulations, and are designed with you in mind to enhance your home whilst providing energy efficiency and durability.
The owner and founder of Weybread Woodcraft Ltd, Phil Cook, started training with aircraft, building jet engines, because of this background Phil has an excellent eye for detail and a high quality of workmanship.
Design and enhancement of timber windows has always been at our forefront. We are proud to offer beautifully designed windows, that we feel are a credit to our company. We have been using computer design for 23 years and this has allowed us to continuously design, review and develop our products.
We have always prided ourselves with the high quality and standard of finish or our products. Each member of the team plays an important role in achieving this, from design, machining, spray finishing through to the final build and installation. Our skilled craftsmanship and use of advanced computer controlled machinery linked directly to our order and quotation software, results in a precisely made product that provides optimal performance and an unrivalled finish. Be assured that placing your order with Weybread Woodcraft Ltd will always ascertain the attention to detail, finish and care that we have become known for. We pride oursselves on our customer service.

TESTIMONIALS
Here is a selection of letters from our satisfied customers.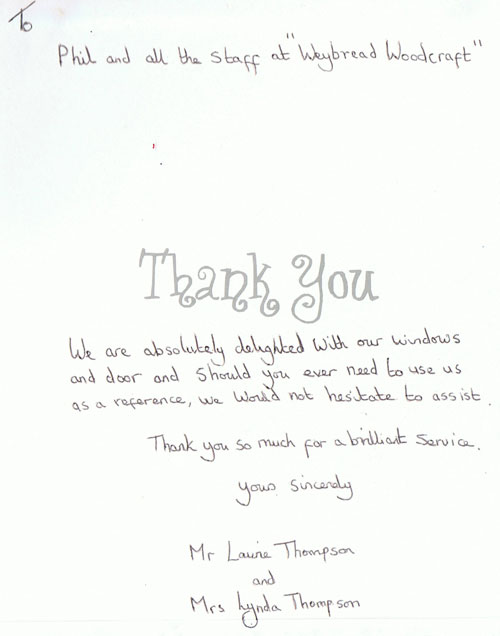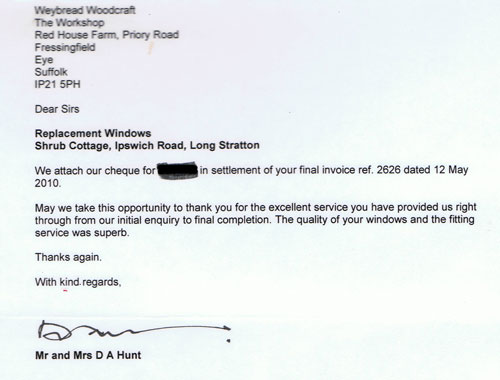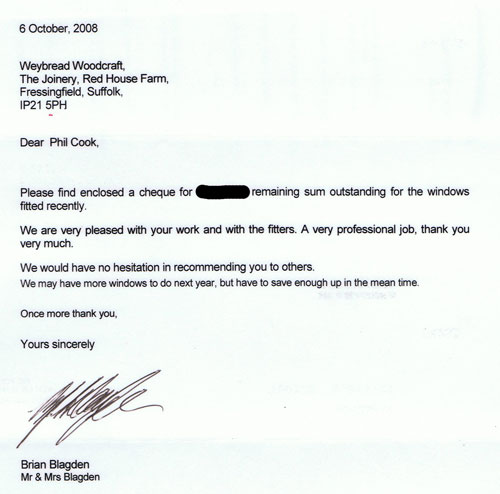 Call now for your no obligation Quotation.
01379 586392