About Us
Weybread Woordcraft is a family run business, established in 1995, a sister company to Splinternet, our flyscreen company, based in East Anglia on the Norfolk/Suffolk border.
We are a member of FENSA, CE compliant and specialise in bespoke wooden window frames, interior/exterior doors, stairs and conservatories. We offer an extensive range of quality bespoke joinery products. Our enormous experience in window, door and stair manufacture means all our products are expertly designed to your requirements using the finest materials.
All Weybread Woodcraft's products are thoroughly tested during the manufacturing process to ensure compliance to all industry regulations, and are designed with you in mind to enhance your home whilst providing energy efficiency and durability.
The owner and founder of Weybread Woodcraft Phil Cook started his training with aircraft, building jet engines, because of this background Phil has an excellent eye for detail and a high quality of workmanship.
Design and enhancement of timber windows has always been at our forefront. We are proud to offer beautifully designed windows, that we feel that are a credit to our company. We have been using computer design for 18 years and this has allowed us to continuously design, review and develop our products.
We have always prided ourselves with the high quality and standard of finish of our products. Each member of the team plays an important role in acheiving this, from design, machining, spray finishing through to the final build and instalation. Our skilled craftmanship and use of advanced computer controlled machinery, linked directly to our order and quotation software, results in a precisely made product that provides optimal performance and an unrivaled finish.
Be assured that placing your order with Weybread Woodcraft will always assertain the attention to detail, finish and care that we have become known for.
TESTIMONIALS
We pride ourselves on our customer service. Here is a selection of letters from our satisfied customers......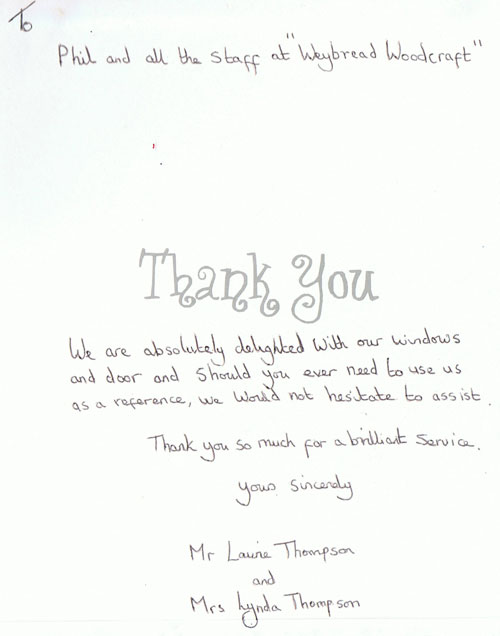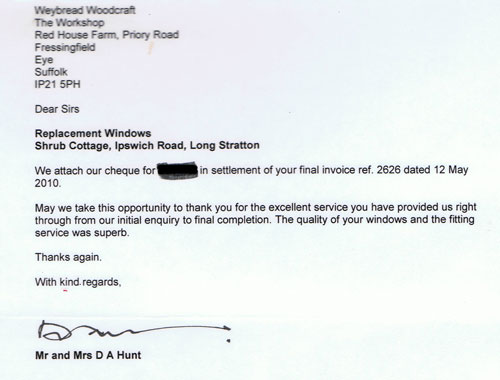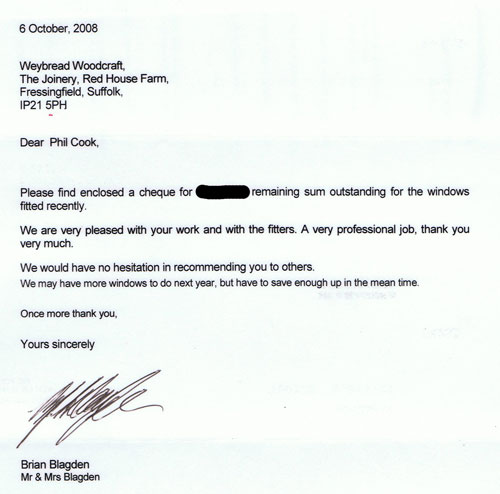 Call now for your no obligation Quotation.
01379 586392